A $79 million hack on market-leading crypto exchange platform Upbit is placing South Korean users in a "state of confusion".
Per Chosun, a series of large altcoin transfers were made out of Upbit accounts at just after 1pm KST (4:00 UTC ) on November 27, including some USD 50 million worth of ETH, and smaller amounts of XLM, BTT and TRX.
Crypto tracking Twitter account Whale Alert has also reported a series of huge transfers from Upbit accounts to unknown accounts, including this large ETH transfer.
Janet Chun, a Seoul-based Upbit customer, told Cryptonews.com,
"I can't make transactions on my account, and I'm reading news of a hack online now. I'm afraid that perhaps I've lost funds, along with hundreds of others. The company has barely said anything, and I find that particularly worrying."
Minutes after the transactions were made, Upbit posted an announcement on its website stating that cryptocurrency transactions and trading has been suspended while the exchange performs "server checks," although customers may still make fiat withdrawals and deposits."
The company said that it would inform customers when service has been resumed and added, "We apologize for the inconvenience."
Per Fn News, Upbit has stated that it is "looking into" the matter. Cryptonews.com has reached out to Upbit for comment on this story.
Upbit is the only major South Korean exchange that has never experienced a hack, and its major investors involve chat app giant Kakao.
Upbit offers over 200 trading pairs and is ranked 50th in the world in trading volume. The platform processed USD 94 million in the past 24 hours, according to data from Coinpaprika.
Trading volume on Upbit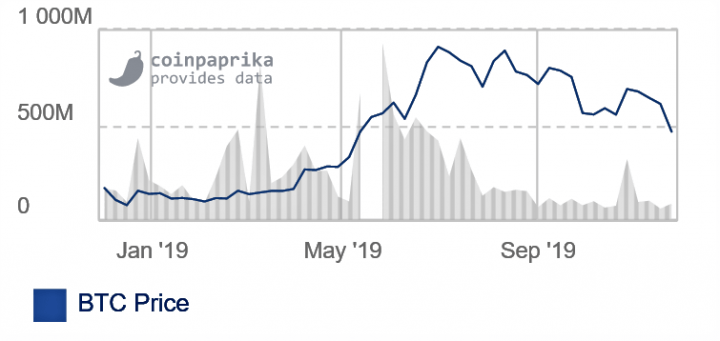 Upbit will use corporate funds to protect user assets
In his statement, Lee Seok-woo revealed that:
"At 1:06 PM on November 27, 2019, 342,000 ETH (approximately 58 billion won) were transferred from the Upbeat Ethereum Hot Wallet to an unknown wallet. Unknown wallet address is 0xa09871AEadF4994Ca12f5c0b6056BBd1d343c029."
Apologizing to users for any "inconvenience" caused, the CEO outlined measures by the exchange taken after it detected the incident.
The exchange has pledged to protect user assets, stating that the 342,000 ETH (roughly $50 million by press time) will be covered by corporate assets. It has already moved all crypto assets held in its hot wallet to cold storage.
Deposits and withdrawals will take at least two weeks to resume, with Lee Seok-woo promising to inform users as soon as they reopen.
The CEO further indicated that all other recent large-scale transfers were not abnormal, but were related to the exchange moving assets between hot and storage facilities.
Read more on CryptoNews and CoinTelegraph